The Waverly Story, Past and Present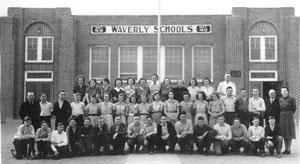 Waverly has long had its own charm, agricultural and social characteristics that contribute to its identity as a community. Farming and ranching families met in March 1886 in an area twelve miles north of Fort Collins to form School District #49, and by December 1886 a school building had been constructed. A postal clerk suggested the name "Waverly," after a Sir Walter Scott novel. Around the turn of the century, Waverly appeared on USGS maps. Historical records indicate the Township of Waverly was platted in 1903 by F. C. Grable, an early land developer and developer of North Poudre Irrigation Company. At one time, Waverly was incorporated, had a mayor, board of trustees, post office, fire department, church(es), and a general store. The 1911 "History of Larimer County," by Ansel Watrous mentions Waverly's fruit and shade trees. In 1903 the Colorado & Southern Railroad extended its line from Wellington with a spur just south of the current school to serve passenger trains, a beet dump and a cattle-loading pen. Although the first school had only nine grades, the Waverly school gradually expanded and graduated its first 12th grade class in 1930. The school consolidated with Poudre R-1 in 1960. Most recently, the building has been purchased by Turning Point and serves as an alternative Teen Learning Center and occasionally as a community hall.
Waverly continues to enjoy a mix of interlocking agricultural activities and cottage industries that contribute to its uniqueness. The people of Waverly in general are involved with the land and livestock and are invested in keeping the open, agrarian, rural character of their community intact.
The Waverly area in general is bounded as follows:
on the north by County Road 72,
on the east by County Road 11,
on the west by County Road 21, and
on the south by County Road 64.